Custom Your Own Unique LED Neon Sign - MakeNeon
With our online neon design tool, you can easily customize your text LED neon sign with a variety of options such as fonts, colors, backgrounds and accessories to achieve the perfect effect.

Need assistance? Browse our LED Neon FAQ page for answers, or contact us to get in touch.
Tech Specs
| | |
| --- | --- |
| Dimensions | Customized as per your request (The minimum size of a letter is 4CM) |
| LED Neon Flex Size (W x H) | Size (6 x 12mm) or (8 x 15mm) |
| LED Neon Flex jacket | White jacket (Turn off display White)  / Colored jacket (Turn off display colored) |
| LED Neon Colors  | Red, Blue, Green, Orange, White, Warm White, Light pink, Yellow, Lemon yellow, Ice blue, Purple, Pink |
| Backboards | 5mm Acrylic plate |
| Acrylic board color | Transparent / black / colored |
| Warranty | 1 Years |
| Backboard shape  | Cut to shape, Square backboard, Invisible acrylic |
| LED Power Adapter | Standard 230v or 110v LED power adapter |
| AC Power Plug | EU / UK / AU / US Plug |
| Main Parts | Acrylic plate, Neon flex, Power supply, Accessories for installation |
| Transparent cable  | Approx. 2m long (from LED sign)  |
| A/C Power Cord  | Approx. 1.5m long ( from transformer) |
| Installation methods | Mounting (on wall ) or Hanging by ropes ( on ceiling ) |
| Delivery time | 3-6 working days after payment confirmed |
Neon Font
We can produce any design you could possibly want - letters, words and logos. Our store offers some fonts to choose from, or you can send your own font or image to us directly: support@makeneon.com
Neon Color
We can make neon sign in many colors. LED neon flex jacket has two types, one is white jacket (turn off display white), one is colored jacket (turn off display colored). Please tell us the color of your choice.


Neon Color Type:
We have 3 Color Types For Neon Lights:


* Type 1: Single Color Display When Light On (Most popular)
* Single color in one light. (22 different colors option on site)
* Use dimmer remote to control brightness and flashing of the light.
*Remark:
1.Single color neon light can be waterproof.

* Type 2: Multi Color Display When Light On
* 15+ different colors in one light, 1 color shown at a time.
* Use remote to change color and control brightness and flashing of the light.
*Remark:
1.Multi color neon light can be waterproof.
2.Small size / Small text neon light hard to make Multi color


* Type 3: Gradient Color Display When Light On
* 21+ different colors in one sign, which can be simultaneously displayed at the same time in 100+ preset digital patterns.
* Can also display single color at a time.
* Use remote to change color and control brightness and flashing of the light.
*Remark:
1.Gradient color neon light can not be waterproof.
2.Small size/ Small text neon light hard to make Gradient color 
Neon Sign Backboard Shape
Each sign also has the option for backing to be trimmed in one of 2 ways :
1.Cut to shape;2.Cut to square;
It is recommended to choose 1.Cut to shape (most commonly used).
Backboard material is acrylic.Transparent color is the choice for most people.
Neon Sign Accessories
Power Supply:
Each sign comes with an easy-to-use power supply, simply plug it in like you would a lamp. We provide the correct plug depending on your location (EU, UK, US, AU). Transparent cable approx 2m long (from LED sign). A/C Power cord approx. 1.5m long (from transformer).
Dimmer:
We also provide you with a dimmer, this plugs in between your sign and the power supply and allows you to easily adjust the brightness of your sign to fit the mood of the room. (Extra charge)
Hanging system:
Each sign comes pre-drilled and with the necessary items to hang your sign in it's new home.
Neon Size
We can customize neon lights of any size you want, but there is a minimum size limit for letters in different fonts, the minimum size of letters is 4CM.
Refer to the general size/style guide below to help with your order.
Custom Neon Sign Processing & Shipping
All your orders will be processed within 24 hours, if you need to confirm the neon sign mock-up before production, please contact us by email: support@makeneon.com

Processing time:

Standard order, production will be completed within 7 working days after payment.
Rush order, production will be completed within 3 working days after payment.


Shipping Time:
Free shipping on all neon sign orders!
United States: 3-7 working days
Australia: 3-7 working days
United Kingdom: 3-7 working days
Europe: 5-10 working days
Rest of the world: 5-10 working days

Packaging:
Upload Your Business Logo or Image for a Free Quote
Submit the form to send us your text, logo image or any ideas for a free quote:
support@makeneon.com
Make Neon
We Focus On Handmade Neon Art
Every MakeNeon Light Signs to you are carefully handcrafted artwork through strict quality control.

We investigate extensively to source best quality materials, and we only use flexible LED neon lights for your beautiful neon order, it contains no gas or mercury, works with a 12-volt DC power adapter, and is risk free when the lights are on.

Your order will take approximately one to three weeks from design, production to delivery to ensure that every beautiful neon light sign order is perfect for you.
Make Neon
Custom Your Own Neon Sign Design Easily
Want to bring an unique custom LED neon signs to your space? Use our Custom Neon Sign Builder to create your own neon vibes, click to choose a font, color, and size.
Don't worry if you can't find a font you like, we can reproduce fonts in almost any style, including handwriting, images, and logos.
If you are unable to design your custom neon sign ideal with our online neon sign builder or want to create a design with logo, pattern or any cool ideas? Need to see a neon mock-up before order?

Just send us with your ideas or any photo files, MakeNeon Team will get back to you with the free mock-up and best quote.
Why Custom Neon Signs from MakeNeon?
MakeNeon signs are handmade with kid-safe, economical and ecologically friendly LED neon light tubes. Some great reasons to choose a custom LED sign from us are:

Best Price: We can beat the price of any like-for-like quote from our competitors.

Great Quality: 1 year manufacturer warranty is available for faulty items (indoor use only). All our products are quality-tested before shipment.

Durable: Makeneon use high quality material and the latest neon flex technology, which is stronger and lighter than glass neon.

Safe: Makeneon Signs are made of kid-safe LED flex neon tube. Our neon tube is long lifespan, and remain cold, silent, and eco-friendly. They are also safer because they do not contain gas or mercury
Why Choose LED Neon Sign?
50,000 hours:
Long lifespan around 50,000 hours, can be used for 10-15 years.
Not breakable:
Different from traditional neon sign, our LED neon sign are not breakable, light weight and long service life.
Doesn't get warm:
95% of the energy consumed by LEDs is transformed into light and only 5% into heat. Which means your sign will never get hot.
Low energy consumption:
Our LED Neon signs are 80% more efficient than traditional neon signs. Meaning you can enjoy your sign without worrying about the bill.
Easy to Install:
Each sign comes with an installation kit, mounting (on wall) or hanging by ropes (on ceiling).
Guaranteed:
100% quality testing, each of our signs comes with a 1-year guarantee and is insured during transport.
Bring Your Brand
To Neon life.
Make Neon x Celeste Bright
Custom Neon Signs is Easy from MakeNeon
LED Neon Sign Online Builder
With our neon sign online builder, you can easily customize the size, text, color, acrylic backing, use position, accessories...
Custom Now
Get a quote
If your neon cannot be designed through an online builder, please fill out the form and send your request get a quote.
Get A Quote
Designed Neon Sign Shop
You can browse our design for inspiration, or you can purchase directly, if you don't have the size and color you want, please contact us.
Shop Neon
Perfect sign
The sign was so cute. My niece and everyone loved it. Thank you!! I will definitely buy another one. This is the second sign I've purchased from MakeNeon.
Custom Neon Sign
Arrived quickly and looks great! Customer service was prompt and very helpful. I cannot wait to see it on display at our wedding! If I ever need another sign, this is where I will order. Thank you!
Custom Neon Sign
They were able to add my logo and were easy to work with. Making a few changes was easy...and they are one of the best prices I found online for this kind of sign.
Custom Neon Easy
Just amazing! Such good service from the offset! They sent me different fonts and colours so quickly. I got to see exactly what it would look like before purchasing. Came quickly! And looked perfect! Thanks!
Good Customer Service
Incredible product and very kind seller, bought one as a gift but definitely gonna get another for myself eventually because of the great quality and awesome service :)
Wedding Neon
This is great, and it arrived super quickly. Thank you! Lights were exactly like listing! And super fast shipping. Cutest idea for wedding tables
Good Quality
Super nice, great quality and smooth transaction. Completely thrilled.
Custom Neon Sign
Sign is perfect! Exactly what we were looking for shipped and delivered quickly. Sellers were quick to respond and helpful!!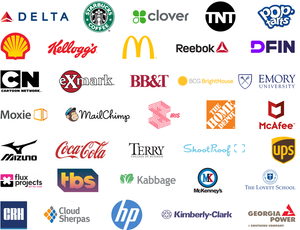 MakeNeon is trusted by 3000+ brands
Let's Bring Your Brand to Neon Life
What is LED neon light Signs?
The traditional neon light signs are glass tubes containing neon or argon gas, which is lit by a negligible current. Neon was popular and are usually used used as brand signage for motels, bars, tattoo parlors, beauty shop and food stalls. Undeniable, neon sign is the distinctive element of Modern city's nightlife.
More stylish, energy-saving and beautiful! The new style LED neon lights replicate the lighting effect of glass neon lights but do so more efficiently.
It is made with flex strip and LED beads. Therefore, the signage is lighter weight, easy to shape, not easy to damage, and has a longer service life. LED neon lights are easy to use and versatile, so they are becoming more and more popular!
LED neon light signs not only use for business, it can also be used as home decoration, or bring more vibes for your wedding party events.
How to personalized your custom neon sign on MakeNeon Store
With just a few clicks, you can easily create a neon atmosphere on our product page. MakeNeon's online builder provides multiple options to help build cool neon signs.

Size: Our Builder are offering 20'', 30'', 40'', 50'', 60'', 70'', 80'' width for your neon sign. For 5-7 letters, we suggest build it by 20-30''. If the letter you want to say on the neon sign is more than 12, we suggest 40''-60''. More letter inquiry, bigger size are request. We also can do other size if you wanted, welcome to contact us for support.

Font: MakeNeon has collected the most popular regular script and cursive script, as well as some double-line fonts. Try to type your neon letter and bring your own neon into reality, nothing is cooler than this.

Color: we offer 12 popular color of neon lights. They are hot pink, light pink, cold white, warm white, red, orange, purple, green, ice blue, dark blue, yellow and gold yellow.

Color type: The neon lights have standard single color, multiple changing color and gradient full changing color options. It can met your dreams in colorful neon worlds.

Other option: Select the neon signs backing shape in square or irregular, choose the suitable plug of your country standard, and make the sign for indoor use or outdoor waterproof to make your own neon signs perfectly.
Why Custom your neon sign by MakeNeon
MakeNeon company is a professional manufacture of LED neon light signs in America. With the increasing demand for neon sign decorations, our customers are all over the world.
With MakeNeon company, you can easy to bring your dreams to life.
There some reasons why customers trust MakeNeon:

Builder: To create your own neon word signs, you can make your own with our MakeNeon builder online. We have different fonts, colors, size that you can make different combinations. If the neon proof can not fix your ideas, welcome to contact our teams to get free quote and mock-up before order!

Quality: All of our neon lights are handmade with child-safe, economical and environmentally friendly LED neon tubes. And before packaging and shipping, quality control and aging tests will be carried out.

Installation: Our standard neon signs are made of acrylic backing and are easy to install with screws or chains. All our neon sign packs will come with accessories. If you want to see how to install, welcome to watch the video.

After-Sales Service: Our neon sign quality is trustworthy, but due to some unexpected reasons, the product may come with some accessories missing or the package may be violently picked up during transportation and damaged. We will unconditionally reissue the replacement for you.

Warranty: MakeNeon offer one year warranty for every LED neon signs we make. You can check package once it delivered, any quality issue are supported.

Let us illuminated your world with quality LED neon signs for home, business, weddings, events and more.
Light up your world with custom neon signs
LED neon sign is versatile. Not only using for business brand logo, but also as fashion wall art decor for home, wedding, party or event. You can even use it in any occasion.

Special gift: More and more people shop custom neon name signs as birthday gift for father, mother, son, daughter, nephew or friends. The most popular font style that lighting up on the neon name sign is Cursive font.

Wedding & Event: A great way to light up neon signs on the wedding day is to create a stylish and radiant background. you can personalize the neon sign as family name signs, initial name signs,  couple's name, bridegroom and bride name sign. Or you custom the sign saying as love vows, Mr and Mrs, bride to be, love you more...

Baby Shower:Baby is the apple of people's eyes. Many young couples are more and more attention to the sense of ritual, and they may hold Baby Shower for their newly born baby.
A lighting kid's name sign or funny neon sign can make the party active. bring an active atmosphere to the event.
After the event, you can also hang it in the nursery room as a wall decoration.


Business Brand Logo:Every business should have a brand name or logo so that customers can remember your products and services well. Modern flex neon light signs stand out and bring more attention for coffee shops, bars, restaurants, and diners. You can always see neon light up signs dress up the beauty salons or barber shops; Large outdoor neon signs are found in nightclubs, Yoga or GYM studios.

Modern merchants are willing to cater to the social needs of young people. They usually decorate a beautiful wall art with business neon signs as the background for selfies. As a part of modern wall art, LED Neon Signs feature shining, attracting and good vibes. Young people are more willing to post beautiful masters with your brand light up signs to Instagram.
Make Neon
Make More Fun to Life
We are making funny neon signs for home, party event, bar, studio, gym, office, restaurant, shop window
Create Neon